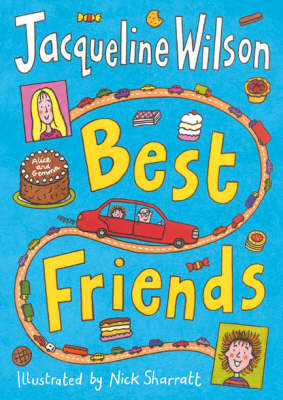 Best Friends is a book by Jacqueline Wilson.
Characters
Edit
Gemma Jackson: Gemma is the story's main protagonist and narrator. She is tomboyish, active and messy, who enjoys football, bike riding and spending time with her Grandad. She is Alice's best friend and is devastated when she learns Alice is moving to Scotland, having seen each other nearly everyday since the cradle. She has two brothers, Jack and Callum. Her parents blame her when she runs away with Alice.
Alice Barlow: Gemma's best friend. In contrast to Gemma she is quite the girly girl, who loves dressing up, ballet and the colour pink. She appears traumatised when she and her parents move away to Scotland, having been parted from Gemma. However, she is spoiled with allsorts of glamourous items in their new home. She makes friends with snobby Flora. She writes Gemma a birthday card at the end of the book.
Best Friends
Illustrator
Nick Sharratt
Publication date
2004
Published by
Doubleday, Corgi Yearling
Publication Order
Preceded by
Midnight
Followed by
The Diamond Girls
Best Friends

Illustrator

Nick Sharratt

Release Date

2004

Publisher

Corgi Yearling

Age Range

8-10
Ad blocker interference detected!
Wikia is a free-to-use site that makes money from advertising. We have a modified experience for viewers using ad blockers

Wikia is not accessible if you've made further modifications. Remove the custom ad blocker rule(s) and the page will load as expected.