Big Day Out is a book that was published especially for World Book Day 2012, and could be redeemed with a World Book Day voucer, or be brought for £1. It contains 4 short stories; 2 featuring brand new characters, and 2 being sequels (of Lily Alone and The Worst Thing About My Sister). All the stories are about children and their siblings who go on a day out somewhere, whether it would be at the beach, a picnic, a fairground, or a cats show.
It is believed that at least one of the stories was originally featured in Totally Jacqueline Wilson.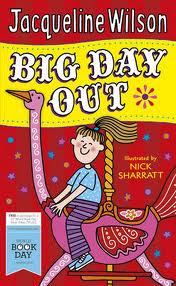 Ad blocker interference detected!
Wikia is a free-to-use site that makes money from advertising. We have a modified experience for viewers using ad blockers

Wikia is not accessible if you've made further modifications. Remove the custom ad blocker rule(s) and the page will load as expected.