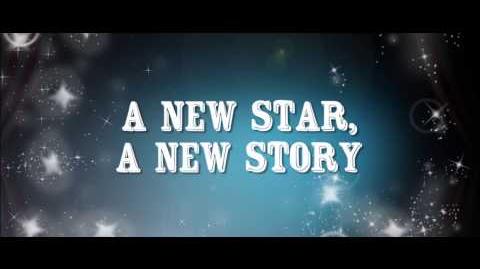 Diamond is the star of the Jacqueline Wilson book of the same name released 26th of September. The summary of her book is: Diamond wasn't always a star. Born to penniless parents who longed for a strong, healthy son, she was a dainty, delicate daughter - and a bitter disappointment. Discovering she has an extraordinary gift for acrobatics, Diamond uses her talent to earn a few pennies, but brings shame on her family. Then a mysterious, cruel-eyed stranger spots her performing, and makes a deal with her father. Diamond is sold for five guineas, and is taken to become an acrobat at Tanglefield's Travelling Circus.
The crowds adore Diamond, but life behind the velvet curtains is far from glamorous. Her wicked master forces Diamond to attempt ever more daring and dangerous tricks, until she is terrified to step into the ring. But there are true friends to be found at the circus, too: the gentle Mister Marvel; the kindly Madame Adeline; and the glorious Emerald Star, Tanglefield's brand-new ringmaster, and Diamond's heroine.
Diamond is small for her age, appearing younger than she really is. She has blue eyes and long blonde hair which is in waves of the front of her book. She has a pretty white fairy like dress with a pair of beautiful wings and a gorgeous crown that sits elegantly on her head. She also has a pretty wand that she holds. She is a supporting character in Emerald Star as the small acrobatic girl she meets at Tanglefields circus. Her father says at one point that she is the exact copy of her mother.
Friends and Family
Edit
John: one of Diamond's four brothers and the youngest
Matthew: the eldest of Diamond's four brothers and is sent to work as a carpenter.
Mark: the second eldest of Diamond's four brothers who is sent to be a fish monger but runs away.
Luke: the second youngest of Diamond's four brothers. He is sent to work at furnerals.
Mary-Martha: her only sister. She acts very pious, but Diamond grows to care for her after their mother dies.
Hetty Feather: Diamond's idol. She is the ringmaster at Tanglefields Travelling Circus. Hetty also makes Diamond feel better after Beppo the clown has hurt her.
Madame Adeline: Diamond's other idol. She ride horses bareback at the circus. She thinks of her stage name, "diamond".
Bertie (Albert Briggs): Hetty Feather's Sweetheart/Soulmate.
Her Father (Samuel Potts)- who seems to be an alcoholic. He sells her to a circus clown to be made into an acrobat. She is then given the name 'Diamond' as her stage name. For a living Samuel Potts sold angels and gilt cards, he was a patterer.
Diamond's real name is Ellen-Jane Potts. She was named after her maternal and paternal grandmothers, both deceased.
She was born in 1883, the fifth child of Samuel and Lizzie Potts.
Ad blocker interference detected!
Wikia is a free-to-use site that makes money from advertising. We have a modified experience for viewers using ad blockers

Wikia is not accessible if you've made further modifications. Remove the custom ad blocker rule(s) and the page will load as expected.