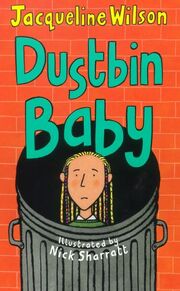 Dustbin Baby (2001) is a children's novel by English author Jacqueline Wilson. The story focuses on
April
, a fourteen-year-old girl who was abandoned by her mother in a dustbin when she was only a few minutes old. After a row with her foster mother, she goes in search of her past. The book was adapted into a film in 2008 by the BBC.
When she was a few minutes old, April was abandoned by her mother in a dustbin behind a local pizza restaurant. She was discovered by a young waiter there and named April by the hospital as she was found on April Fool's Day. She was fostered by Patricia Williams, but only lived with her a short time before being adopted. April's first stop on her fourteenth birthday is Pat's house. She finds that she remembers little of it and Pat remembers little of her. However she does befriend one of Patricia's new foster children Tanya - a character seen before along with Pat in another of Jacqueline Wilson's books, Bad Girls.
April then visits the graveside of her adoptive mother, Janet Johnston. Janet committed suicide a few years after adopting April, while battling depression stemming from her husband's affairs and the break-up of her marriage.
April subsequently tells readers of the time she lived a residential care home called Sunnybank Children's Home, run by a man and woman, Little Pete and Big Mo respectively. Here, April is befriended by a much older girl called Gina. But, sooner or later, Gina calls upon April to "help" her friends in a series of burglaries after dark. April was bullied mercilessly by another resident, Pearl, until April took drastic action against the bullying by pushing Pearl down the stairs, causing Pearl grievous bodily injury and, consequently, April's removal from the home.
After leaving Sunnybank, April was taken to Fairgate, a school for learning-impaired children. Here April stayed for five years and formed a close bond with her history teacher Miss Marion Bean, and a friendship with a girl called Poppy, who has Down's Syndrome. Marion begins to bond with April and refers her to be moved to a mainstream school. Here April make new friends, Hannah and Cathy, and Marion with the help of social worker Elaine (which could be a reference to Tracy Beaker's social worker) decides to foster her.
The story ends with April meeting the pizza boy, Frankie, who discovered her in the dustbin the day she was born and resolving the fight she had with Marion at the start of the story...