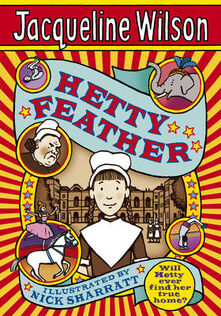 Hetty Feather is a book by best-selling author, Jacqueline Wilson. It is about a young girl who is abandoned by her mother at the Foundling Hospital as a baby and follows her story as she lives in a foster home before returning to the Foundling Hospital as a young child.
Hetty Feather
Illustrator
Nick Sharratt
Publication date
2009
Published by
Doubleday, Corgi Yearling
Publication Order
Preceded by
Cookie
Followed by
Little Darlings
Hetty was abandoned at the Foundling Hospital as a newborn baby. Children abandoned at the Hospital are fostered until the age of five, at that exact age they need to be returned to the Hospital to start their education. Hetty spends her early years as a foster child under the care of Peg and John Cotton who she knows as her mother and father. She is largely unaware that she will one day have to leave them. There are several other foster children in her home as well as Peg and John's own children. Jem, Nat, Rosie and Eliza are the pair's own children; whereas Martha, Saul, Gideon and Hetty are foundlings. There are also Bess and Nora, who are away in service, and Marcus, who is a soldier. Hetty especially likes Jem, who is five years older than she is, and who treats her very kindly. Hetty is a feisty, redheaded child who often gets into trouble but who is generally kind-hearted and loved by the family.
Martha is the eldest of the fostered children, and is taken away back to the Foundling Hospital when she turns five. Initially, Hetty does not connect Martha's fate with her own future, until Saul is taken too; although she dislikes Saul, she cries when Peg takes the sobbing Saul away. Missing her foster siblings, she demands to hear the truth. When Peg tells the other children about the Hospital, Jem promises Hetty that he will marry her once she is released around the age of fourteen and says he will meet her at the Foundling Hospital, sadly when Hetty walks out she does not notice him and leaves him there standing all alone.
As Hetty gets older, a circus moves into town. There is a parade through the streets, and Hetty loves it; especially Madame Adeline, a redheaded lady dressed in scanty clothing who rides a horse. Hetty and Jem sneak to the circus, telling Gideon they are going into the woods to a tree Gideon fears, as he cannot be trusted with secrets. They creep in through the side of the circus tent and watch the show together. Towards the end, Madame Adeline performs and asks for a volunteer to come up and help her, and Hetty screams to be picked. She is, and performs on Madame Adeline's horse with her. The crowd cheer and clap as Hetty returns to her seat, excited that she had met Madame Adeline and that Madame Adeline had called her 'My little Star'. Upon leaving the circus, Hetty is convinced that Madame Adeline is her mother, and wants to go back and meet her again, but Jem persuades her not to. When they arrive home, they find that Gideon has gone missing; after hours of searching, Gideon is found by the tree that Hetty had claimed that they were going to, unconscious. He recovers but is greatly weakened and no longer speaks. Hetty feels horrendously guilty. Poor Gideon!
Ad blocker interference detected!
Wikia is a free-to-use site that makes money from advertising. We have a modified experience for viewers using ad blockers

Wikia is not accessible if you've made further modifications. Remove the custom ad blocker rule(s) and the page will load as expected.