Book of the Month
Edit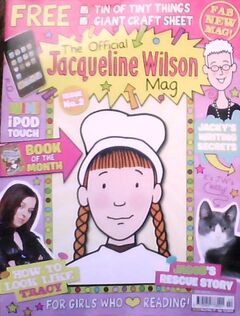 Issue 2's Book of the Month is Hetty Feather.
Book Club Question Suggestions
Edit
Chat about your favourite characters. Who do you like? Who do you not like?
Imagine what happened to Hetty next.
Dream up lots of extra adventures for Hetty to have.
Have a competition to draw the best Hetty Feather picture!
Story School
Edit
This issue's Story School shows you how to create a character and write a story about them.
How to Draw
Edit
This issue shoes you how to draw Hetty Feather.
1. Use a pencil to outline the shape of Hetty's head, shoulders and hat.
2. Add Hetty's face then draw little sausage shapes down to her shoulders to create plaits.
3. Add her hair and criss-cross shapes to her plaits. Draw on a collar and sleeves.
4. Colour her in. Hetty has flaming red hair and cheeks to match!
Nick's Tip: When copying Hetty's hat, imagine you care drawing the top of a loaf of bread.