Book of the Month
Edit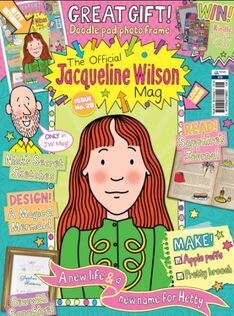 Issue 28's Book of the Month is Sapphire Battersea.
Hetty Feather is 14 and it's time for her to move into the big wide world. She always longed to be called Sapphire, after her sparkling sapphire-blue eyes and hopes her new name, Sapphire Battersea, will also mean a new life.
But instead of becoming a marvellous published writer, Hetty goes to work as a servant. It's not the life she longs for at all! She fills her drab days with imaginary hopes of living with her mother, her childhood sweetheart, Jem, and of becoming wildly successful and rich.
Then tragedy strikes! Will Hetty be able to cope? And will she ever get the things she dreams of?
Book Club Question Suggestions
Edit
Do you think you could work as a servant girl like Hetty?
Does her life seem better or worse now she's no longer in the Foundling Hospital?
Were there any characters in the book you didn't like? Why?
Can you imagine never having seen everyday things like a department store or cemetery?
What do you think happens next?
Story School
Edit
This issue shows you how to write a story set in Victorian times.
Our rich girl will be called... Latvia? Victoria? Charlotte? Phyllida? You choose?
Our poor girl will be called... Jane? Eliza? Martha? Sarah? It's up to you!
They live in the same
How to Draw
Edit
This issue shows you how to draw Sapphire Battersea.
1. Sketch a 'u' shape for Sapphire's head and draw the bodice of her dress.
2. Next, draw her arms and two little curves for the ears before sketching the outline of her long hair. Add two wavy lines for her fringe.
3. Decorate her bodice with a row of small buttons and draw lots of long wavy lines to create her flowing hair.
4. Finally, sketch a fancy swirl on her bodice before filling in the details of her face. Now it's time to add colour - don't forget to give her rosy cheeks!
Nick's Tip: Use your brightest orange to give Sapphire a mane of flaming hair!