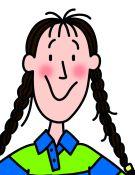 Ruby Barker

Age

11 (double act) 29 (The Butterfly Club)

Gender

Female

Lives

Family

Garnet Barker (twin sister), Richard Barker (father), Opal Barker (mother)

Book(s)

Double Act, The Butterfly Club
Ruby is a boisterous character with a fierce temper and a tendency to get in trouble. She bosses her twin sister, Garnet around a lot but the latter still adores her. She usually speaks for her twin as well but her dad doesnt seem to realise this. She hates her dad's girlfriend dispite her being kind to her and is angry when Garnet befriends her. She is quite impulsive and often doesn't bother to think about things, shown by cutting all her hair off so she doesn't look like her twin. She can be unforgiving but is ultimately a kind person. She also appears in The Butterfly Club (2015) as a grown-up. Ruby is now an actress and her twin sister Garnet is the executive producer of her show Ruby Red.
Ad blocker interference detected!
Wikia is a free-to-use site that makes money from advertising. We have a modified experience for viewers using ad blockers

Wikia is not accessible if you've made further modifications. Remove the custom ad blocker rule(s) and the page will load as expected.