Tanya

Age

14

Gender

Female

Family

Theresea (mother)
Carmel (sister)
Sean (brother)
Matty (brother)
Jayme (sister)
Father
Stepmother

Book(s)

Bad Girls
Dustbin Baby
Candyfloss (cameo)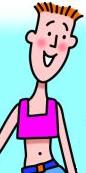 Tanya is a feisty 14 year-old foster girl who's mother comitted suicide. She is one of the main characters in Bad Girls. But also makes a brief appearance in Dustin Baby when she lets April stay for lunch and fool around in her bedroom.
Tanya's mother comitted suicide due to depression and drug abuse. Her father isn't a "suitable parent" and is an alchoholic, so thats how she ened up at Pat's. In Bad Girls Tanya tells Mandy about her family and her younger siblings; she has a sister Carmel who is always in trouble for shoplifting and is in a carehome herself, two brothers; Sean and Matty who have either been fostered or adopted because they are "happy with their new family", and another sister Jayme who is only seen in in Dusbin Baby and is about to get adopted.
Appearance
Edit
Tanya has short orange hair, and often wears T-shirts, shorts and high heels.
Personality
Edit
Tanya is usually very relaxed and easy-going. However, she can also be very fiesty and fierce and through temper tantrums.
Offences and Crimes
Edit
Tanya shoplifts regularly, although she doesn't seem to feel that it is even wrong, and becomes annoyed when Mandy timidly confronts her. By the end of "Bad Girls", Tanya steals a posh blue sweater from a fancy shop, Indigo. Mandy doesn't see but the Flowerfields shopping mall security comes and dial the police who arrests Tanya. After this Mandy stops seeing Tanya, who sends her a postcard when she arrives at her new foster home.
Tanya enjoys doing a large list of things which include...
Drawing and/or colouring
Doing other peoples hair
Taking care of little children
Sunbathing in the park
Meeting friends
Going to the mall
Stealing
Belongings
Edit
A sparkly violet top, which she gives to Mandy at the end of "Bad Girls"
A t-shirt with the picture of a singer named Curt on it
A set of Swiss felt-pens given to her by Mandy at the end of "Bad Girls" before she leaves to her new foster home
A walkman with lots of tracks
A portable radio and lots of CDs, to which she and Mandy dance to
A fat agenda in which she writes April's phone number in "Dustbin Baby"
Ad blocker interference detected!
Wikia is a free-to-use site that makes money from advertising. We have a modified experience for viewers using ad blockers

Wikia is not accessible if you've made further modifications. Remove the custom ad blocker rule(s) and the page will load as expected.